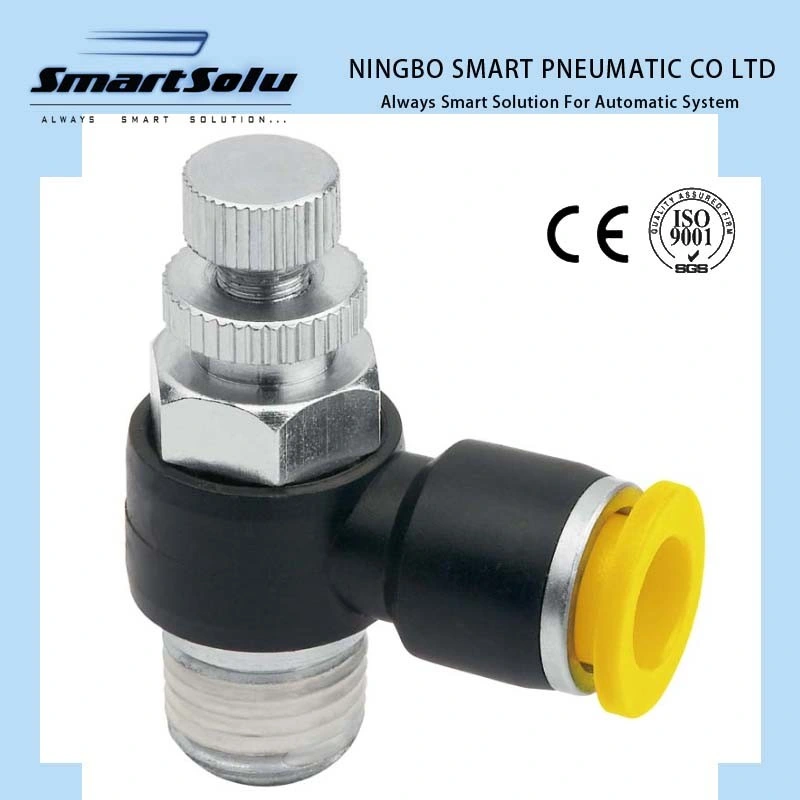 APPLICATIONS:
*One touch type connection tool for air pressure piping.
*Various uses depending on the user's environment in limited spaces.
Features:
*One action inserts the tube to release and connect easily.
*The PC type has interior and exterior hexagonal shapes for efficient piping
*The main body of the PL and PT types is a rotating structure for efficient piping.
*The screw section has O-ring, or Teflon coated
FEATURES:
1. Designed for Polyurethane or Nylon tubing.
2. Quick and reliable connections.
3. Reusable: multiple connections / disconnections.
4. Convenient elliptical / round sleeve configuration.
5. Metallic body made of non-corrosive Nickel-plated Brass.
6. Pre-coated threads are ready to use without additional sealing.
7. Outside (and Inside where applicable) hexagonal wrench tightening.
8. Available over 60 different models in imperial, metric sizes and hybrid.
Model(ΦD-T)
Tube(Metric)-Thread(R)
Tube(Lnch)-Thread(R)
Tube(Lnch)-Thread(NPT)
NES04-M5
NES08-03
NES1/4-M5
NES5/32-5/32"N
NES5/16-1/8"N
NES04-01
NES08-04
NES1/4-01
NES5/32-1/8"N
NES5/16-1/4"N
NES04-02
NES10-01
NES1/4-02
NES3/16-3/16"N
NES5/16-3/8"N
NES06-M5
NES10-02
NES5/16-01
NES3/16-1/8"N
NES5/16-1/2"N
NES06-01
NES10-03
NES5/16-02
NES3/16-1/4"N
NES3/8-1/4"N
NES06-02
NES10-04
NES5/16-03
NES3/16-3/8"N
NES3/8-3/8"N
NES06-03
NES12-02
NES3/8-02
NES1/4-1/4"N
NES3/8-1/2"N
NES06-04
NES12-03
NES3/8-03
NES1/4-1/8"N
NES1/2-3/8"N
NES08-01
NES12-04
NES1/4-1/4"N
NES1/2-1/2"N
NES08-02
NES1/4-3/8"N
Why choose us?
(1) Quality, we only produce top-level quality products, we promise that all of our product's raw material are first class, and good quality system controls, so our goods' quality is very good.
(2) Price, our policy is that "Win-to-Win". That means in view of our long-standing business relationships, we only take small profit to help you for the marketing.
(3) Delivery, we alway have some products in stock, so we can complete the delivery within the time stipulated before.
(4) No MOQ, I think it is an attractive condition to some of you who have no big demands for each items temporarily.